There are many types of printing styles for fabric. Topical application, tie dye, heat pressing, and sublimation just to name a few.  Each of these styles have benefits and drawbacks. In terms of sheer power, complexity, and quality – dye sublimation reigns supreme. Here's an overview of the downsides and benefits of sublimation printing.
HOW DOES IT WORK?
Dye sublimation is unique due to its process which requires a lot different pieces to come together to make it work.
First, and most importantly, would be the ink. Most inject or laser printers spray or fuse ink or toner to the surface of an object. Inkjet printers spray ink which bonds during drying, and LaserJet printers use solid toner which use heat to fuse the toner to a surface.
Sublimation ink differs from both of these processes. It starts off as a solid, which is applied to a transfer material. This is usually a special type of paper which is made specifically for the ink involved. The paper is then pressed against a material, called the substrate.
WHAT CAN IT BE USED WITH?
Substrates must be a man made synthetic fiber which can receive the ink, or the material must be coated with a special polymer to allow the ink to bond. The ink gets heated under pressure to an average of 40 to 50 psi. It is then pressed against the substrate for a period of time which changes depending on the substrate.
During this heating process the ink is vaporized. The polymers in the fiber or coating expand from the heat and take in the ink particles, which then solidify again. This process causes the ink to actually bond to the inside of the material, creating a design that will not fade, peel, crack, or fray over time unless the very material itself begins to wear away.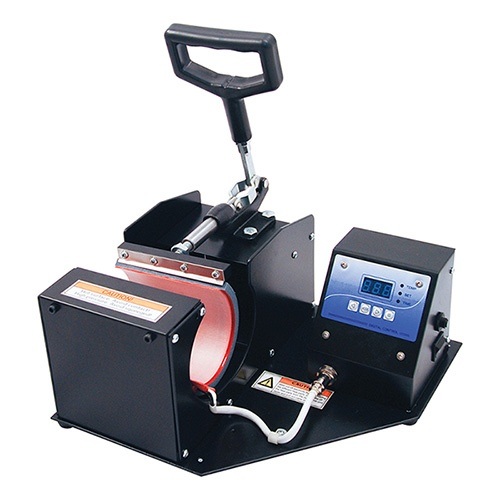 WHAT ARE THE BENEFITS OF SUBLIMATION PRINTING?
There are a few main benefits of sublimation designs. Most notably is design longevity. Because the ink is actually inside of the material or coating this means it will not rub, tear, peel, or crack away. This is especially noticeable compared to mugs with enamel decals on the surface. Those designs begin to wear away over time.
Another benefit is the potential design complexity and no limit to color, scope, or resolution. This will allow for full creativity with no limitations imposed from printing, cutting, or application. The resulting print is crisp, clear, and vibrant with no color loss. Sublimation allows for continuous color tones as opposed to traditional printing which dithers different colors inks to create a hue.
WHAT ABOUT THE DRAWBACKS?
The drawbacks are mainly expense and materials. It cannot be used on natural fibers, and as a result you are restricted to pure synthetic or blended synthetic fabrics. The ink requires special printers, special apparatus to heat and press, and specific transfer material which can increase infrastructure cost and expenses. For designs with high impact, this should be your go to choice when you want the best quality for the price.
OUR SUBLIMATION SERVICES.
We currently offer sublimated mugs and apparel, with designs up to 16 million colors. Sublimation can be combined with our inexpensive apparel options or embroidery to create an even more impressive impact. Read our post about the benefits of embroidery here.
If you would like to contact us for a quote, please visit our contact page for more information.